Calendar 2021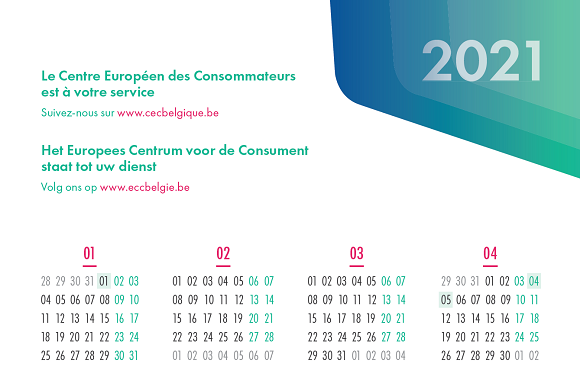 Are you also looking forward to a beautiful 2021 in which we can finally leave the coronavirus pandemic behind us? Are you also dreaming of a calendar full of social gatherings and get-togethers with the people closest to your heart? Our calendar will give you a nifty overview of all the days in 2021 in which these dreams will hopefully become reality.
This year we have chosen a new concept for our calendar, with an overview of 2021 on one side and our contact information on the other. That way, you will always have our details close at hand. The financial cost of our coveted wall calendar was sadly no longer sustainable, but we believe this new format is a great alternative.
We hope that our ECC-calendar will receive a place on your wall or fridge in the year to come, as a reminder that we are there if you need us.
Reserve your calendar for 2021*!
* Offer valid only in Belgium and while supplies last.