European energy labels: mandatory information for every sale of electric appliances
For almost 30 years the energy labels have informed the European consumer about the energy use of household and other electric appliances. The concept is simple: appliances receive an energy label with a class on a comparative scale running from A (most efficient) to G (least efficient).
As household electrics became more and more energy efficient over the past decades, several new classes were created by adding one or more plusses to the old A class. The proliferation of A+ and A+++ classes has made it harder for consumers to make an informed choice, and this at a time when consumers are more willing than ever to buy sustainable products. This is why the energy label was due for an update.
Energy labels from A to G
On March 2021, a new and improved energy label was introduced. The comparative scale now runs from A (green) to G (red), without any plusses. The energy labels are mandatory across the European Union.
What does the new label look like?
The new energy label is easily recognizable by its QR-code. If you scan the code with your smartphone, you will receive additional information about the appliance.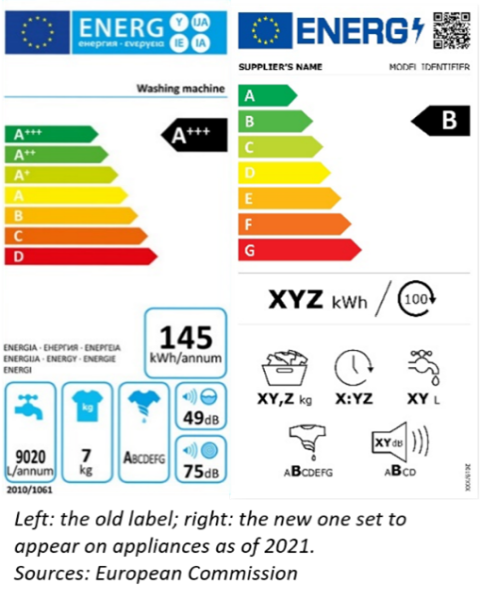 Which products need to use the new energy label?
The new label is mandatory for:
Refrigerators and freezers (including wine refrigerators)
Dishwashers
Washing machines (including combination washer-dryers)
Televisions and screens
Starting on 1 September 2021, lamps will need to use the new label as well.
Other consumer goods will continue to use the old label for now:
Dryers
Heating appliances
Airconditioning and ventilators
Kitchen appliances
Good to know:
For now, no appliances will receive the new "A-label". This class is reserved for new appliances that will be even more energy efficient than the current generation.
There is no sense comparing old labels to new ones.
The energy label is mandatory in stores and online
The energy label is not just mandatory in stores, it is also mandatory online. Web shops should give you the same possibility to make sustainable choices by informing you about the energy efficiency of the appliances they sell. These rules apply to all European web shops.
Online sellers should provide the following information next to the price, and this in the same font size:
Or
The energy class, in the shape of a coloured arrow linking to the energy label
Good to know: Energy labels are not mandatory for second hand products.
Did you purchase an appliance online, but have come to regret it? Know that you can return the goods under certain conditions. Learn more about your right of withdrawal.
Or did your appliance stop working? You can submit a claim under the legal guarantee. Do you know the difference between the right of withdrawal and the legal guarantee?