ODR platform: a website for all your online consumer disputes
Imagine: you buy something online from a Belgian webshop or from an online store in another European country. But the adventure is disappointing and you receive nothing at all. Or you don't receive the brown boots you ordered but red sneakers instead. Or you buy a waterproof photo camera, which turns out not to be waterproof at all.
All these complaints should be resolved with the seller. But this does not always happen. No amicable solution can be found, even not with the help from the European Consumer Centres? Is seizing justice your last resort?
Fortunately there is an alternative to court: Alternative dispute resolution (also called extra-judicial settlement or ADR).
There are various forms of alternative dispute resolution: an ombudsman, conciliation commission, arbitration ... and they exist all over Europe, thanks to European legislation and European initiatives. The European Commission adopted quality standards that these bodies must comply with and gathered all these notified dispute resolution bodies in Europe on the ODR or online dispute resolution platform.
With the ODR platform, the European Commission wants to make it easier for consumers and traders to settle their disputes, without the intervention of a judge.
4 partners
are involved on this platform:
the consumer ;
the trader / webshop;
a notified body for alternative or out-of-court dispute resolution;
the ODR contact point.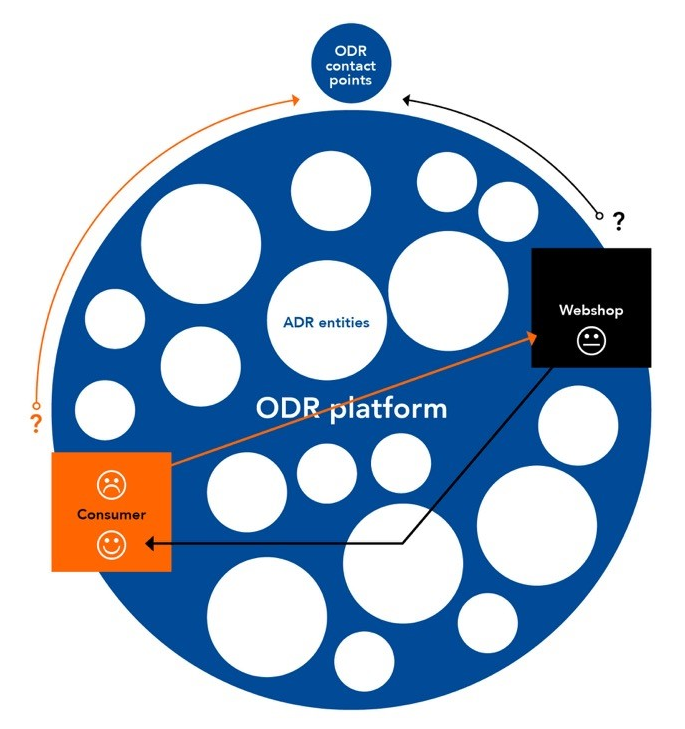 How does this work?
Step 1: Fill in the trader's e-mail address. He will then be notified about the complaint. Be careful not to make any typos in the e-mail address. Otherwise, the trader won't receive your complaint.
Step 2: The trader may propose a solution or propose an Alternative Dispute Resolution (ADR) body.
Step 3 a: Traders are not obligated to handle your complaint. In this case, the complaint will expire after 30 days.
Step 3 b: Did the trader appoint an ADR body, a solution to your complaint can be expected within 90 days. In case additional documents/explanations are required, or a settlement has been formulated, both the trader and you will be notified by the platform.
An interactive manual and an infographic explaining the different steps, come in handy to inform consumers and traders about the ODR platform.
If one of the players on the ODR platforms needs help or has a question, the network of ODR contact points is available.
Want to discover the ODR platform? Check it out at http://ec.europa.eu/odr/!
Information about the ODR platform is mandatory for online traders
Online traders are required to state the link to the ODR platform on their websites.
Situation in Belgium
Different alternative dispute resolution schemes (FR/NL) were notified by the Belgian Ministry of Economic Affairs and therefore comply with the European quality criteria. In Belgium, the European Consumer Centre was appointed to take the role of the ODR contact point.
Got a query on Online Dispute Resolution?
If you have a query about Online Dispute Resolution, how to use the platform, or need assistance with an ODR complaint then you can contact the Belgian help desk.
+32 2 892 37 12 - Monday to Friday from 9 AM to 12:30 PM
Hollandstraat 13 - 1060 Brussels - Belgium
And elswhere in Europa?
The directive for alternative dispute resolution in consumer cases was not adopted yet by all member states. This means that not in all EU countries there are notified alternative dispute schemes available to handle the complaints of the ODR platform.
ECC-Net
The network of the European Consumer Centres (ECC-Net) has more than 10 years experience in handling cross-border consumer queries. ECC's give free information, legal advice and try to find an amicable solution for consumer complaints.
If opportune the ECC will forward the case to an alternative dispute resolution scheme in Europe for the resolution of the complaint.
With the ODR platform the European Consumer received an extra tool to enforce his consumer rights.
Want to see how it works?
Here is a quick video to show you just how easy the Online Dispute Resolution (ODR) platform really is to use, giving consumers and traders more options to resolve disputes.